Revolutionize your digital impressions with DESS® Intraoral Scan Abutment
As part of our ongoing product profile series, where we showcase some of the most innovative solutions in the dental industry, we are thrilled to present our third featured product: DESS® Intraoral Scan Abutment.
Dental technology is constantly evolving, with new products and innovations emerging all the time, making digital dentistry workflows more precise than ever. In this context, Intraoral scanners have revolutionized the way dental professionals create digital impressions of their patients' teeth and gums. However, the accuracy of these scans is heavily dependent on the stability of the scan abutment used.
In this article, we'll take a closer look at one of the most innovative scan abutments on the market today: the DESS® Intraoral Scan Abutment, a solution that has quickly gained a reputation among dental professionals for its exceptional quality, ease of use and accurate results.
Let's explore what makes this product so unique and how it can benefit dental professionals and their patients.
The DESS® Intraoral Scan Abutment is designed to work seamlessly with all scanners on the market. It is made from high-quality titanium and features a unique anti-rotation design that ensures precise scanning every time. With the DESS® Intraoral Scan Abutment, dental professionals can save time, reduce patients chairside time, and improve the overall accuracy of their treatment planning.
To discover more about DESS® Intraoral Scan Abutment, review the following features and benefits:
Zirconium Nitride (ZrN) coating.
The ZrN coating is a surface enhancement treatment that ensures high durability as well as radiopacity, preventing any glitter effects along with the SelectGrip® Surface.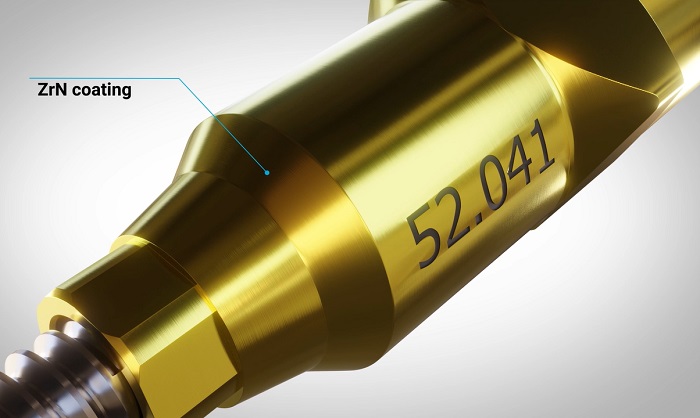 SelectGrip® Surface for an optimal scan without glitter effects.
DESS Dental applies the sandblasting treatment during the manufacturing process, resulting in a flawless finish that produces a perfect scan, free from any glitter disturbances. This achievement is almost impossible to get through a laboratory manual procedure.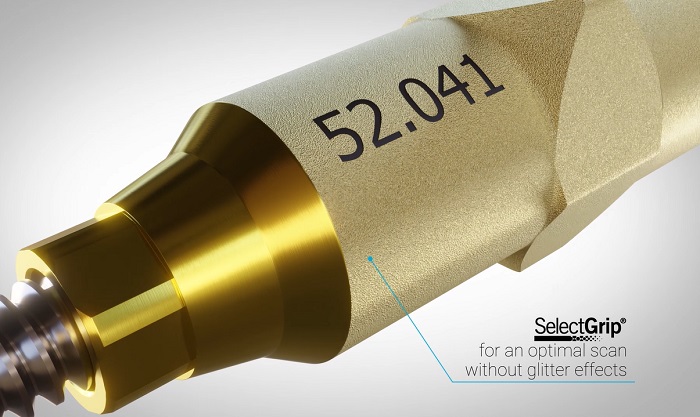 Perfect design for a perfect scanning.
o No sharp edges to avoid scanning noises.
o Orientation shape on a higher position to maximize visibility.
o Good stitching performances for intraoral use.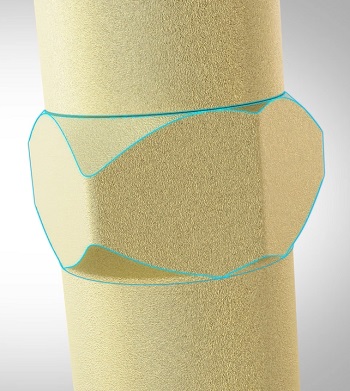 Suitable for both intraoral and desktop use.
Manufactured in Titanium Grade V ELI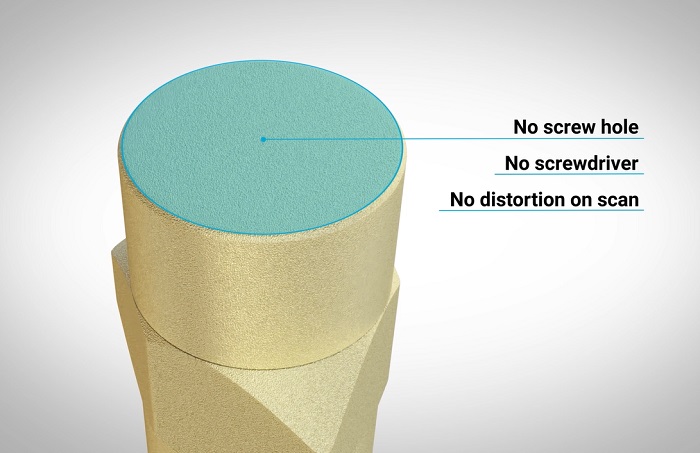 No screw hole nor screwdriver to avoid distortion.
DESS Intraoral Scan Abutment has a captive screw for an easy and safe manual positioning, thus avoiding any distortions caused by a screw hole or screwdriver. In addition, the captive screw allows a second unscrewing step for cleaning and autoclaving.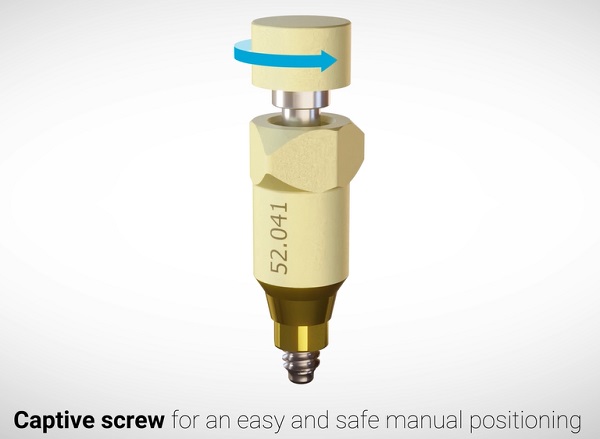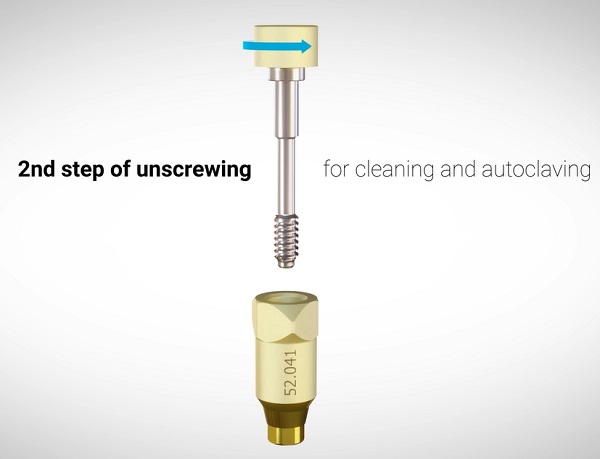 Manual tool included.
DESS Intraoral Scan Abutment includes its manual tool to facilitate insertion and screwing/unscrewing.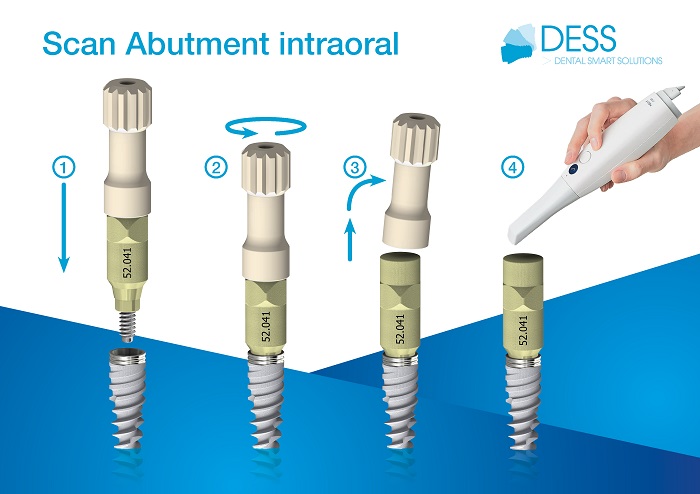 Digital Workflow.
DESS Intraoral Scan abutment can be used in conjunction with DESS free libraries for Exocad, 3Shape, and Dental Wings, providing a seamless and efficient workflow for dental professionals.
Compatible with 32 implant systems:
NobelActive®, NobelReplacecc, Nobel Replace Select, Nobel Brånemark®, 3i Osseotite®, 3i Certain®, Straumann® Soft Tissue Level & synOcta®, Straumann® Bone Level, Straumann® BLX, Neodent® Grand Morse, Zimmer Screw-Vent®, Astratech Implant SystemTM EV, Astratech OsseospeedTM, Dentsply Friadent® Xive®, Dentsply Ankylos® C/X, Osstem® TS, Camlog®, Conelog®, Biohorizons® Internal, Biohorizons® Externald, MIS® Seven, MIS® C1, MIS® V3, Megagen® Anyridge, Anthogyr Axiom®, Medentis ICX®, Globald in-kone®, Dentium Superline® & Implantium®, Bego Semados®, Biotech Kontact®, BTI®, Phibo® TSH®, DESS® Multi-Unit Connection.
Additionally, DESS Dental integrates the Pure Switch concept into our full product range, ensuring that all our products and their parts are designed to perfectly match the implant connection.
In conclusion,DESS® Intraoral Scan Abutment is an exceptional product that has been specifically designed to improve the accuracy and efficiency of digital dentistry workflows. With its anti-rotation design and ZrN coating, our scan abutment provides accurate results that are free from any glitter disturbances. Dental professionals can save time and reduce patient chairside time with this product, and its integration in all intraoral and desktop scanners and compatibility with a wide variety of implant systems makes it a versatile solution for both intraoral and desktop use. TheDESS® Intraoral Scan Abutment is also easy to clean and sterilize, making it a cost-effective and reliable solution for dental practices.
If you wish to have more information about DESS® Intraoral Scan Abutment, you can head to the Scan Abutments section on our website or contact us at info@dessdental.com.